Wearing Words


My friend, artist Laura Hamor is having a contest to showcase the beautiful bracelets she creates.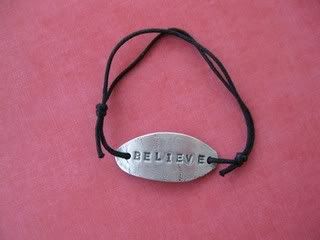 "Create," "Write," and other bracelets can be found on her Etsy site.

I love single words. I have a bracelet that was given to me at a series of "One Book/One Community" visits that says INSPIRE on it. I wear it to every school visit or conference where I speak--and at no other times. There's something powerful about sliding that word onto my wrist. It reminds me of my real job at those events.



Leap and the net will appear.

Since I already have a bracelet for speaking, I think I need one for writing. Laura also does groups of words, so besides this contest, I'm going to ask Laura to make me a unique one--my favorite reminder for revision. It's a quote by the artist Andrew Wyeth, and it's "Go deep, not wide."

To look down and see those words so close to my typing fingers would be a good reminder to be honest, to be brave, and to be respectful of the complexity of the characters and situations I've created.

If you want to enter Laura's contest, here's what to do:

1. Post this contest on your blog, including a link to www.SilverFreckles.com.

2. Then go to Laura's new blog and comment on the giftaway post---
http://lauraludwighamor.blogspot.com/2009/11/silver-freckles-promo-and-giftaway.html

and put your blog address in the comments. Laura will draw a name from those comments and that person will win a bracelet.

This would be a great holiday present. And if you've been married as long as me, you're at the point where you pretty much just tell your spouse what you want! So Laura, you can expect an email from my husband, even though he doesn't know it yet!

The contest runs from now until Nov. 12.